When baking salmon in the oven, here's a delightful creamy sauce recipe you can whip up in just 10 minutes for those seeking different flavors. While the salmon cooks on parchment paper in its usual simplicity, we simultaneously prepare a simple sauce with onions, cream, lemon, and butter.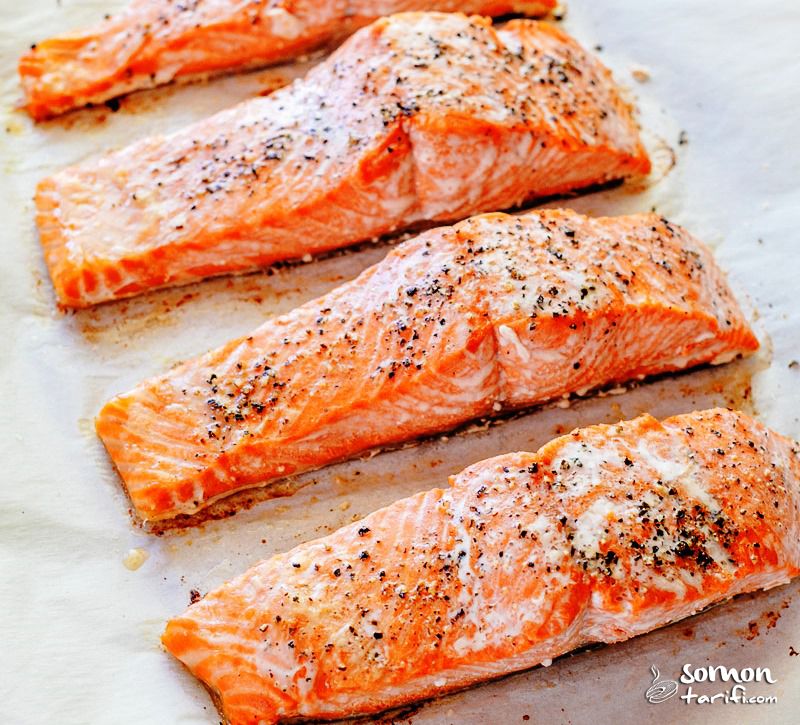 Since salmon is a quick-cooking fish, it bakes in a short time, around 12-15 minutes at 180 degrees in a regular oven. If using a convection oven, this time might be slightly shorter, but you should consider the thickness of the fillet.
The key to cooking delicious salmon is to ensure it stays moist inside without overcooking. If you cook it too much, the fish becomes dry and oily.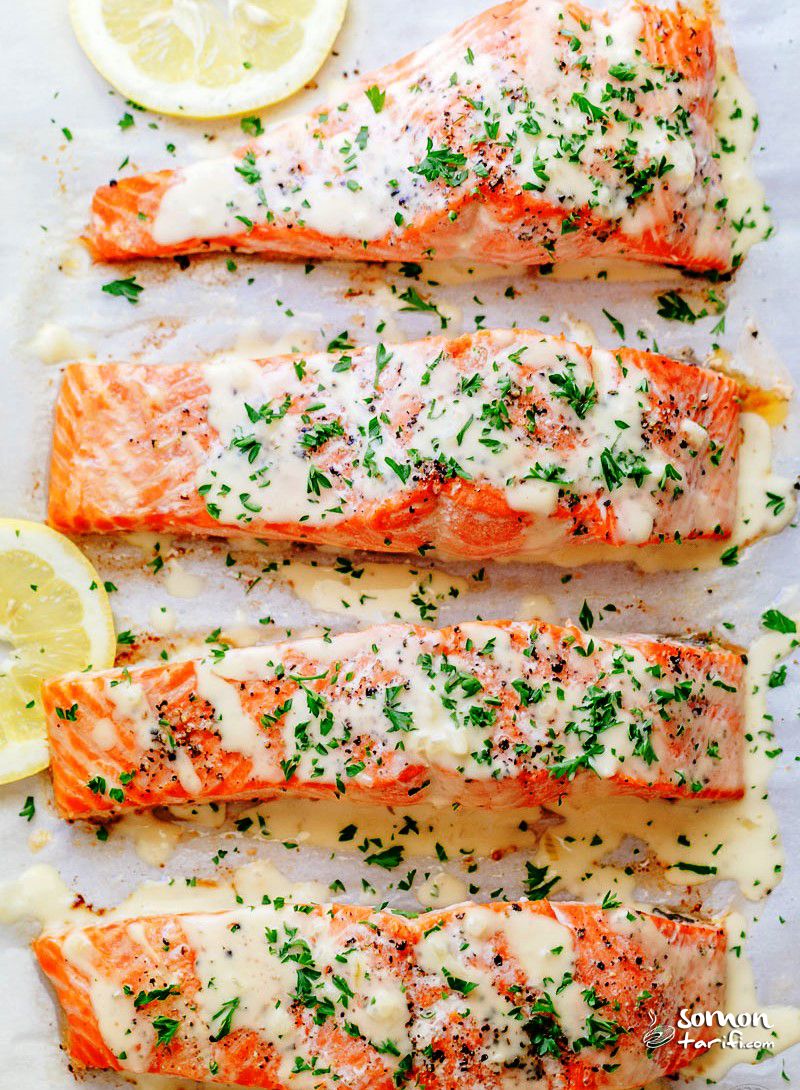 The lemon flavor in the sauce in this post will give a lighter taste to the creamy sauce. After the salmon is cooked, transfer it to a serving plate, drizzle the sauce over it, and garnish with parsley.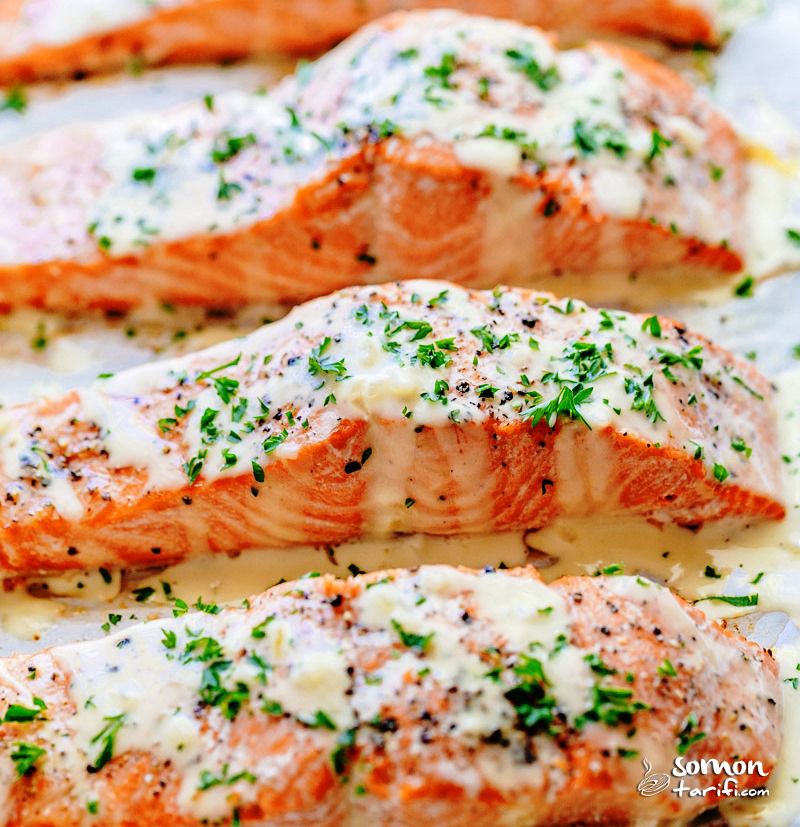 Although it may look like a fantastic dish prepared with great effort, it's actually a straightforward recipe that you can prepare in about 15 minutes. It's time to impress your guests… Bon appétit in advance :)"

Baked Creamy Salmon Recipe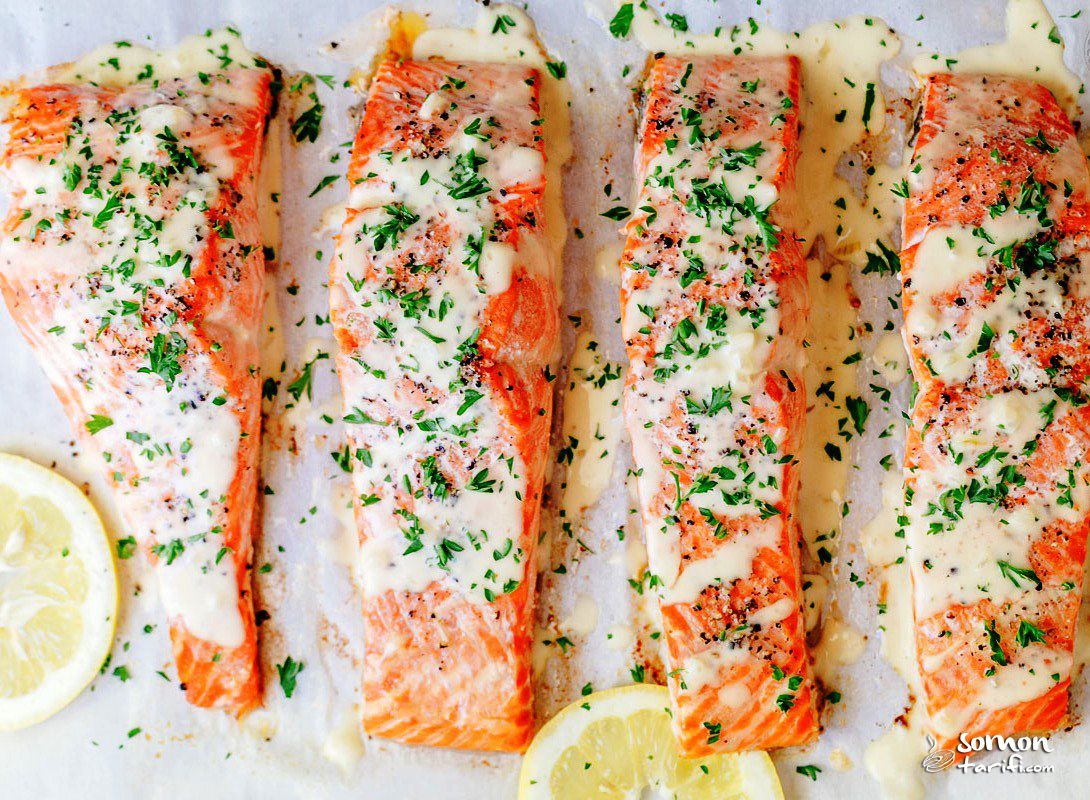 A very practical but delicious creamy salmon recipe that you can prepare in 15 minutes
Malzemeler
Baked Salmon Ingredients:
4 Salmon Fillets
Salt
Black Pepper
1 tablespoon olive oil
1 Tbsp parsley (finely chopped for garnish)
Lemon Flavored Cream Sauce Ingredients:
2 shallots (minced in a food processor or very finely chopped)
4 tablespoons lemon juice
1 tablespoon of apple cider vinegar
200 ml cream (sold ready-made in small packages in grocery stores)
3 tablespoons of butter
Nasıl Yapılır?
After washing the salmon fillets, make sure to pat them dry, preferably with paper towels.
Season the salmon fillets with salt and pepper, ensuring an even coating. Place them on a baking sheet lined with parchment paper and drizzle a bit of olive oil over them.
Bake in the preheated oven at 180 degrees for 15 minutes.
While the salmon is in the oven, let's work on our sauce. Sauté the onions in 2 tablespoons of butter in a saucepan. When the onions start to turn pink, add lemon juice and vinegar, stirring until the liquids are absorbed.
Pour in the cream and continue stirring. Once it starts to simmer, reduce the heat and add 1 tablespoon of butter. Season with salt to taste and turn off the stove.
Remove the salmon from the oven and let it rest for 2-3 minutes before transferring it to a serving plate.
Drizzle the creamy sauce over the salmon. For an extra touch, garnish with finely chopped parsley before serving.